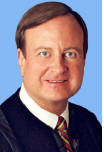 Judge Mark Painter was elected to the Ohio First District Court of Appeals in 1994 and re-elected without opposition in 2000 and 2006. Previously he served on the Hamilton County Municipal Court for 13 years.
In March 2009 he was elected by the General Assembly of the United Nations for a seat on the United Nations Appeals Tribunal. He is the only American on the seven-member court.
A Cincinnati native, Judge Painter attended the University of Cincinnati, where he was elected Student Body President in 1969. He earned a BA in 1970 and a JD in 1973. He practiced law for nine years before becoming a judge, mostly with a firm that later became part of Thompson Hine.
Judge Painter is recognized as an outstanding legal scholar. More than 400 of Judge Painter's decisions have been published nationally, making him one of the most-published judges ever. His opinions have been cited as precedent more than 3,000 times in legal encyclopedias, treatises, law reviews, and other cases. One of his opinions was named one of the six best in the nation for 2005.
Judge Painter is the author of Ohio Driving Under the Influence Law, now in its 19th edition, the only textbook on DUI in Ohio. He is coauthor of another legal treatise, Ohio Appellate Practice. He has written three law review articles, 130 articles for other journals, Internet biographies of Oliver Wendell Holmes Jr., William Howard Taft, and Warren Harding, and a biography, William Howard Taft: President and Chief Justice. His newest book, Write Well: 25 Rules to Improve Your Business and Professional Writing, was released in 2007.
His book on plain legal writing, The Legal Writer: 30 Rules for the Art of Legal Writing, was published in 2002, and sold out within a year. The Legal Writer 2nd Edition: 40 Rules for the Art of Legal Writing was published in 2003, a third edition in 2005, and a fourth in 2009. He writes a monthly column on legal writing for Lawyers USA, which is reprinted by many bar associations across the country.
As an Adjunct Professor of Law at the U.C. College of Law since 1990, Judge Painter taught agency and partnership for 13 years and now teaches advanced legal writing. He was named Chesley Distinguished Visiting Professor at UC for 2008. He also teaches legal writing, DUI law, appellate practice, and legal ethics to judges and lawyers throughout the country. He has lectured at more than 220 seminars for the Ohio Judicial College, the Ohio State Bar Association, Professional Education Systems Institute, the National Institute for Trial Advocacy, and countless firms and bar associations nationwide. In 2008 he traveled to Malaysia as one of four international experts on plain-language legal writing.
Judge Painter has served as a Trustee of the Cincinnati Freestore/Foodbank, the Cincinnati Bar Association, the Mary Jo Brueggeman Scholarship Fund, the Friends of the William Howard Taft Birthplace, and the Citizens School Committee. He is a Master of the Bench Emeritus of the Potter Stewart Inn of Court, and served for three years as a member of the Ohio Supreme Court Board of Commissioners on Grievances and Discipline. He is a member of the Cincinnati, American, and Ohio State Bar Associations, the American Society of Writers on Legal Subjects (Scribes), the Plain Language International Network (Plain), the Legal Writing Institute, Clarity, the National Space Society, the Ohio Historical Society, and the World Future Society.
Judge Painter has lived in the Cincinnati neighborhood of Fairview–Clifton Heights for the last 44 years. He and his wife, Sue Ann Painter, married in 1986.